Among many other programs, the Friends of the West Tisbury Library underwrite training to help the staff keep abreast of library trends and technology.
THIS IS WHAT FRIENDS ARE FOR!
From funding to planning to hands-on volunteer work, there are countless ways in which the Friends of the West Tisbury Library make our library more comfortable, attractive, and complete. Many humble everyday library resources are underwritten by the Friends. The library water cooler, the copier, this very website, the landscaping, advertising for library events, and many furnishings and book shelves are just a few of these. On a larger, more conspicuous scale, here are some other library functions the Friends have supported:
Programs.
The Summer Reading Program encourages literacy among the young and a continued love of reading for all ages. Throughout the year, we fund seasonal activities such as Halloween hayrides and publication-day celebrations for new books.

Staff Training.
Besides preserving and promoting the written word, a modern library serves as community center, communications hub, and a magnet for continuing education. The Friends help pay to keep staff training up-to-date as library services are constantly redefined.
Library Materials.
In 2007, the Friends donated over $5,000 to supplement town funds toward the purchase of new library books, DVDs, and other materials.
The Children's Room.
Recently, when library capacity was stretched beyond comfort, the Friends helped to ease the pressure by turning a basement storage room into an attractive, heated addition for children's books and activities.
Planning and Long-Term Construction.
The West Tisbury Library has Martha's Vineyard's largest materials collection and the Island's second-highest rate of circulation, yet only Aquinnah has a smaller library building. Our library needs more space for collections, activities and displays, better accommodations for students and researchers, along with a place for lectures, films and presentations. The Friends have created a Construction Fund. We are joining the trustees and the community at large in a discussion of how to plan the future of the West Tisbury Library.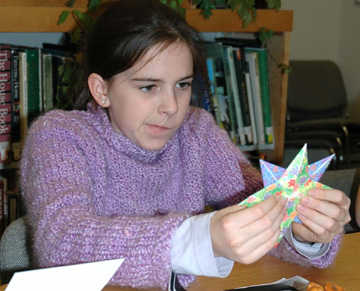 Origami proves to be more challenging than originally thought to one young library visitor engaged in a children's workshop supported by the Friends.


OPPORTUNITIES
Much of what the Friends do for the library comes in the form of financial support made possible through the annual appeal and the Summer Book Sale, our major sources of income. However, many Friends help in other ways.
Volunteering isn't just shelving books. The Friends are always looking for new members with diverse talents and life skills. If you can handle a camera, why not photograph a library activity for the library's ongoing publicity? Or you could bake a batch of your favorite cookies for our next library event. If you're an expert on tropical diseases, maybe you'd be willing to give a fascinating slide show. We're always looking for people to update our data base of members, donors, and the general mailing list. If you're a law or finance professional, our board of directors would welcome your insight.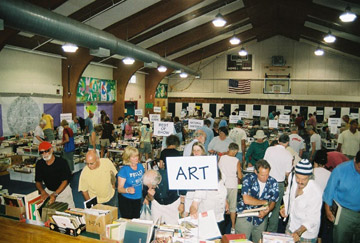 And then, of course, there's the famous late-July West Tisbury Library Book Sale run by the Friends at the West Tisbury School gym. It is tremendous fun and a great boost for our coffers. Wear old clothes!


A BRIEF HISTORY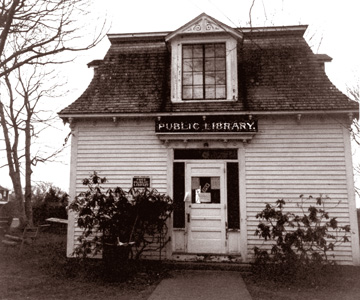 The West Tisbury Library was incorporated in 1893. Its first home was a small, cozy, mansard-roofed building on Music Street that remains a town landmark. Built in 1870 by Hariph Smith, this structure had originally served as part of the adjacent Dukes County Academy (now the West Tisbury Town Hall). Although the old library was beloved for its friendly rural atmosphere, by the 1980s it had become painfully evident that the quaint 19th-century structure could no longer house the growing collection or accommodate the increasing number of library users.
The Friends of the West Tisbury Library was formed in 1981 by a group of concerned townspeople who wanted to provide a library that could grow and evolve, yet remain harmonious with the rural and reflective nature of our town. The current library was completed in two stages: the main building in 1992, with the reading room added in 1995. The Friends played a crucial role in both expansions and to this day provide vital support for collections, furnishings, equipment, programming, training, and future planning. Our mission is to be a source of broad-based sustenance to a much-loved community institution.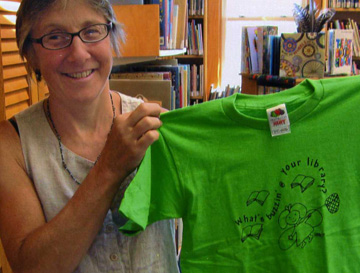 Read your quota of books in the Friends-funded Summer Reading Program, and you'll be rewarded with a souvenir T-shirt!


JOIN US IN HELPING OUR LIBRARY EVOLVE AND GROW!
Renew your membership, or become a Friend today:
$15/year — Senior or Student
$25/year — Single Member
$35/year — Family Membership
$50/year — Sponsor
$100/year — Patron
Please make checks payable to
Friends of the West Tisbury Public Library
and send to
P.O. Box 905, West Tisbury, MA 02575
. All contributions are tax-deductible. Fed Tax ID 04-2743354.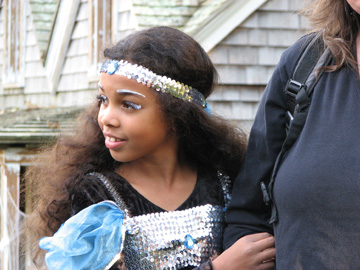 A young library user enjoys the library Halloween party, sponsored by the Friends.
WHO ARE THE FRIENDS?
Susan Wasserman, President
Betty Haynes
Jessica Estrella, Treasurer
Barbara Day
Marilyn Hollinshead
Mary Lu Keep
Lee Revere
Cheryl Lowe
Margaret D'Angelo

Betty Franklin, Deceased

BOOK SALE VOLUNTEERS: Maryann Angelone, Henry Bassett, Kim Baumhofer, Jane Bertkau, Amy Carigan, Rosemarie Doane, Chris Dreyer, Nancy Hall, Evie Hamilton, Sally Hamilton, Roberta Hearn, Marilyn Hollinshead, Lee Revere (Chair), Heidi Schultz, Beverly Szakacs, Tom Thatcher, Susan Wasserman, Dick & Susan Winickoff